first things first. darsor only cares for one person in the whole universe, that is ragnarok, the god. darsor is constanly tormented by demns of the past but isnt extremely dramtic about it. he is dark and quiet, he doesnt talk to much of anyone..... ever. his heart was shattered and he doubts everything in the forsaken world. he has a fiery temper and can hold a nasty grudge. PLEASE be good to him and play him well!! NOT first come first serve. reply with why you think you would be best for darsor and stuff like that, i will choose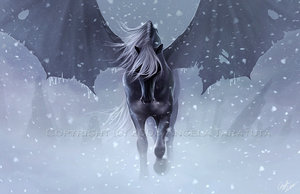 Name:
Darsor the Winterking
Breed:
he doesnt give a damn, he is forsaken
Age:
he is 3024 but no matter, he will live forever anyways
Abilities:
he has thw power over water and such. which is why he is called the winterking. he is able to lower your body temperature and give you frostbite.
Color:
black with tinges of icy blue and white at the edges of his body
Markings:
none
Personality:
I am the Winterking, i bow to no one and no one will bow to me. no, they will fall over themselves for me.
(here is his poem that eris wrote for him)
Ice peirces your skin,
Water melts your defenses,
Snow steals your heat.
The chill has entered your bones,
Movement is no longer an option.
There is no escape from the fate he has chosen for you now.
The Winterking has arrived.
Your heart stops beating,
It can no longer move,
It is incased in ice.
Frostbite nips at your limbs,
You are being destroyed,
but there is no helping it.
The Winterking has arrived.
You feel his frigid breath on the back of your neck,
You shudder and gasp,
His frosty hands rest upon your shouders.
There is no other way,
You are going to freeze to death,
In this glacial wasteland within your mind.
The Winterking has arrived.
He speaks to you,
His voice is soft,
He says one word.
Goodbye.
You are gone.
You are no longer.
You are dead.
The Winterking has arrived.
(originally owned by Eris)