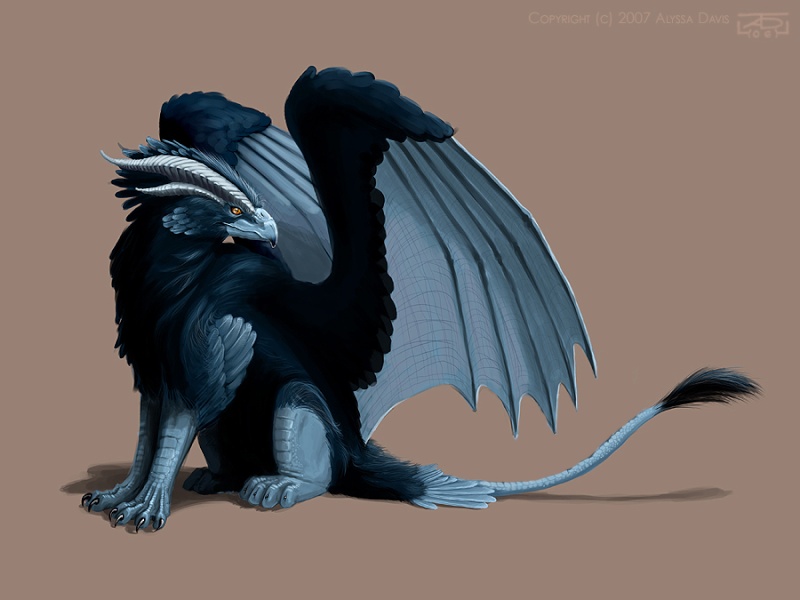 Name: Ensis
Breed: Forest Gryphon
Age: 3 ( VERY young in gryphon years. but they reach maturity at the end of their first year)
Gender: Male
Color: Sapphire
Eye Color: tawny and gold
Markings: none
Personality: Ensis is noble and brave. he stands for what is right but isnt exactly peaceful. he is loud and boastful, the regular for a gryphon of his age
Height:
Ensis is the size of one and a half men. so about ten feet tall to the top of the head.
Length:
not counting the tail, Ensis is about twelve feet long
Wing Span:
the average wingspan for creatures with large weights to be at least doube the body length. but Ensis is a shortwinged breed designed for manuevering through tight spaces quickly and agiley. so where the normal, open spaced breed of gryphon would have a wingspan of about twenty or so feet, Ensis' is only fifteen.
Other:
Being a mixed creature of earth and wind, Gryphons are able to control only one of those elements, his element is Air, even though he has lived in forests and jungles for the whole of his short life. gryphons use the elements in the ancient and traditional way of movement. with a single movement (not thought, but
movement
) Ensis would be able to do somthing to the air, what would depend on which movement he would make.